It's a funny old world, they tell us. Well, I contest she's just delirious on the gas. We've all heard  what the world is going to do about fixing the world but it all gets a little too meta at times. We've made the mud and nobody is coming behind us with plastic bags and baulking faces. This is our mess and without rubbing our noses in it, we're going to clean it up before someone comes home.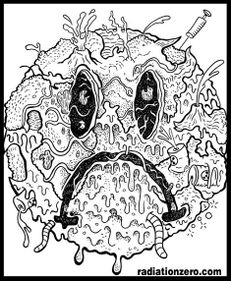 There was a tree planting day in the park that we menace regularly, so with great obligation and seemingly poor dress sense, I set off without Maddy to dig with and no Bear for moving heavy objects. I was fortunate to meet a family from my street and I carefully finished what work they'd done and took a picture to evidence my hard yakkan.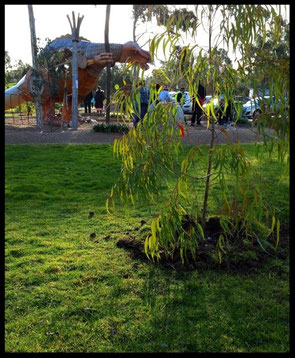 It was nice to plant something that will hopefully live for years to come and nourish this little green island that beckons from our backyard.
The dinosaur looming behind is Milli and was provided so that X company could do a TV commercial. I'm all for the playground, but the metaphor is in the room and putting more organic things in the park feels like a better contribution in my mind. Perhaps next time they could build a living monument for kids to play in (including spiders and disgruntled magpies) or bring a real dinosaur, I don't mind either way.
Over the coming months, I'm looking to Earthwatch for some projects to get involved with and look forward to bleating about my exploits at length in the hope you might see what little can do so much.