One of the down-sides of pet ownership is often the limitations on your travel ambitions. Not everyone gets Boo and You-know-who flown from pillar to post on a whim and a Learjet, many of us are required to take a more terrestrial trajectory in our travels. We can't just whip out the unMasteredCard and get whisked away to golden coasts. It's hard enough to get a taxi in Melbourne if you have mutts in tow, even those with guide dogs struggle.
Recently, I was tasked with an impromptu return road trip from Melbourne to Adelaide, and on long drives I prefer the company of others over radio or even my own playlist, as it is usually more engaging creating a lucid driving experience where I can avoid the snap naps and lapses that present such a danger when rolling alone. Given most of my crew have adult responsibilities, it was up to the dogs to keep me entertained on this journey.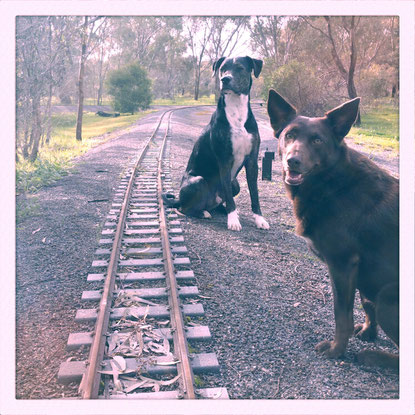 I needed to find dog-friendly digs, as an overnight stay was mandatory. It was a difficult decision, north to the Barossa and naked vines or south to McLaren Vale's vines and blustering beaches. I felt terrible telling Sue from The Old Telegraph Station cottage that I wouldn't be availing of her opulent offerings, but this time the thrill of taking a great Australian Bight of the coast washed down with winter wine was enough to tip me over on my scales.
Now, I drag out days bound to the desk at work and come back to the very same place I left 12-14hrs prior, so when I consider a drive like this that's only 8hrs I figure if I get there in under 14hrs then I'm doing ok, I'm somewhere different and I've got my 2 best mates with me. We set off early to make the most of the sun rising, it's uplifting knowing everyone is on their way to gridlock and you're heading for open road. The Kelpie is like a pinball bouncing from door panels to dash as she feverishly gets her bearings from ancestral landmarks, deducing our destination as best she can with all 6 senses scanning for the next clue. I'm equally alert, battling to make sense of the aberration that is breakfast radio, as it attempts to droll my senses. Bear is in a pranic ball on the backseat, he'll stir very little throughout the journey.
Dodging truckies with their mirrors scalloped in pseudo-ephedrine and cavalcades of spatially unaware social media moguls, we traversed the highways and made our destination just in time to be a half hour late. I would've blamed the time zone, the fruit flies or the inclement weather, but I just had a much longer nap than I had planned prior to the last leg. Australia has some beautiful powernap areas off the highways, it's hard not to over indulge in the uncomfort of your car seat.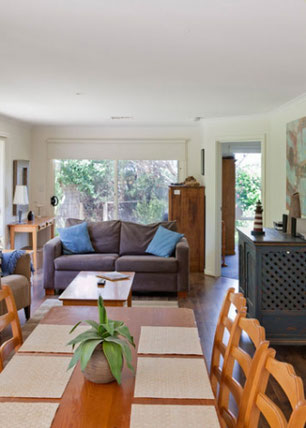 We unpacked the car, packed my carcass with food and bravely set off for a night walk. Envigorated by the Antarctically-aired coastal cliffs, I must've looked like an aging botoxer with that frozen-faced smile/frown look. I pushed on and we eventually failed to find a path down to the pounding surf below. Defeated we returned to our centrally heated hearth, which was nothing short of body-transforming, I reintroduced my haemoglobins to my extremities and consoled myself with donuts. The beach lay blustering in wait as we enjoyed the pad.
Now I'm no slouch when it comes to sleeping abroad, I've slept in everything from garden beds to 5 star resorts, so I've got a good idea of the variety of comfort that one can expect when looking for shelter. Aside from the obvious amenities and utensils, appliances and the like, the place embodied a beautifully balanced aesthetic. It's a great example of how I would want a beach house to look and function, open but cosy, simple yet elegant, with games for fun and loads of space for reflection and relaxation. Most importantly, it's a place that incorporates your animals with few limitations. If your animal can be trusted indoors, then they're welcome to hang with you.
Additonally, it adjoins another dog-friendly home so you could rent both out and pair your pack with others. (They have a few places around South Australia and I'm keen to check out Heartwood Cottage one day.)
With an awesome base established, you're sublimely situated to avail of many of SA's gems. Kangaroo Island (Aus's 3rd largest) with it's soaring cliffs, dense national parks, towering sand dunes, wetlands and untouched white sand beaches is a favourite of many tourists and locals. The back doorstep offers McLaren Vale with over 60 cellar doors begging for thirsty tasters. The Fleurieu Peninsula is host to a range of stunning little historical ports and towns that even get whales dropping past in winter-early spring. Unfortunately for me, I had to drive back that following day rendering almost all of this impossible. So with the sounds of winter whistling in the background, we drifted off in peaceful bliss.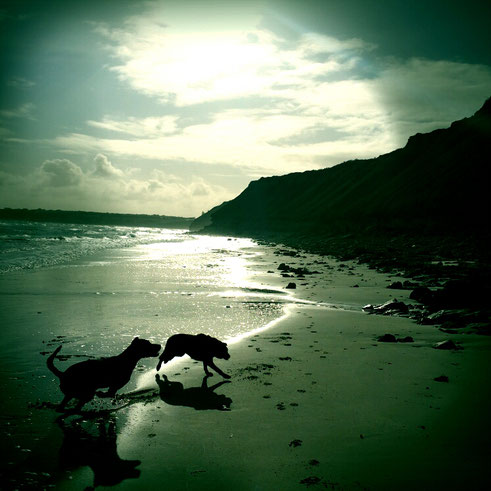 Next morning, we strode off in the car to locate a beach access point and were quickly rewarded with a treat. Down just enough stairs to threaten the stability of your breakfast was a gem in the grill of The Great Australian Bight. The beasts glud down the stairs and hit the beach with as much speed as a Bikie, as I loped. Beaches are just one of those places where the fun amp gets cranked hard to max and it's awe inspiring seeing the beasts in full flight with sand flying all around them.
After a decent bolt we hit the road to check the wineries. It's an enthralling spot, where the hills have more vines than youtube. If you haven't been to a wine region, then I recommend you do. There's an amazing thing they do with little balls of joy, grapes that is. By mashing and fermenting their juice, you get wine. Wine, it is widely rumoured, is why water was made.
Rather inconveniently, the tasting would have to wait another day, this day was drive-by and salivate instead, I had another deadline to disappoint.
With sites like HolidayingWithDogs.com.au there's handy maps that allow you to zoom into an area and pick a place within your reach and means. It's got everything from caravan parks to houses, so you are assured of finding something that'll nudge the travel bug and nurse your purse.
Do you want to look back on life wishing you'd travelled more? Don't sit at home, get out and see where you live. Take your dogs, your mates, your family, all or either, just hit the road…
---